Chester Wrice — Pastor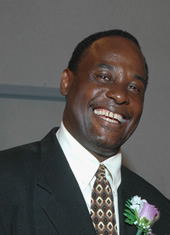 "I cannot express how thankful I am for each of you, for your love and prayers. Every day I thank God for the opportunity to serve here. I know in my heart that our Lord has great plans for our church and my prayer is that we all continue to grow together in Him." — Pastor Chester Wrice
Chester is the fourth child of eleven children born to Nathaniel and Mattie Sue Wrice. He grew up on the south side of Chicago, first in the neighborhood of 62nd & Kenwood and then later lived around 76th & Chappel.
Nathaniel died when Chester was only nine, leaving his mother to raise the children. Mattie passed away in January of 1979, leaving Chester with no anchor in his life. Mattie was a Christian but her son Chester was not. In many ways, he was a lost soul.
Then Sharon Kirk, one of our church family members, helped guide Chester onto a new path by inviting him to attend church. Chester says he came without really knowing why he came and that when he walked through the door, all he saw was a sea of white faces. He asked himself what a young black man from the south side of Chicago was doing in a white suburban church. Chester says he wanted to leave, but he couldn't because his feet were rooted to the floor. He was amazed when the church welcomed him with open arms.
Although he didn't know it then, when he stepped through those doors at the back of the sanctuary, Chester had taken his first real steps on the path that the Lord had laid out for him. Then in 1988, Chester accepted Christ as his savior and was baptized that same year by Pastor Dave Eenigenburg. When Chester was asked if anyone in particular was instrumental in leading him to Jesus, Chester named all the men of the church. By living a godly life themselves, they demonstrated God's love for Chester in everyday life. When Chester would fall in his Christian walk (like the time he cussed out the umpire at a church league softball game) he was gently corrected with love instead of criticism.
Chester continued to grow in his Christian life and began to serve in the church, first as an Usher, then as Head Usher. He became a Deacon in 1991 and an Elder in 1994. By the mid-nineties, he was filling the pulpit on Sunday morning when needed. The church voted Chester in as the new Pastor and he was ordained by the church in July of 2005.
God had brought a wonderful young woman by the name of Florian into Chester's life. Florian and Chester met while working at a bank. Once Chester learned to pronounce Florian's name correctly, (he started out calling her Florie Ann and many times tried to not call her by name at all by calling her sweetheart) their relationship developed quickly. On April 15th of 1989 they were married at Sauk Village Bible Church by Pastor Dave Eenigenburg. They have two wonderful children, Edria and Chester Jr., known as CJ. Florian has also worked in the church over the years, filling the roles of church secretary, office manager, accountant, clerk, worship leader, praise dance director, and children's church director. She has always been involved in the children's programs. In the earlier years Florian worked as a nursery worker and a character in Heart Land.
Florian was blessed to be able to hold a tune better than her husband and she became a member of the worship team. Florian has always had dance in her heart and was a dance instructor of tap, jazz, ballet, African, and liturgical (praise) dance. Wanting to praise God in more than song at Sauk Village Bible Church, she started the Praise Dancers troupe with her daughter. In addition to her church work, Florian is also a cheerleading coach for the local high school.
As we all know, next to God and his family, Chester loves to play golf. But there is something else that he wants to do just as much as he wants to play golf, and that is to walk in the Holy Land where Jesus walked.